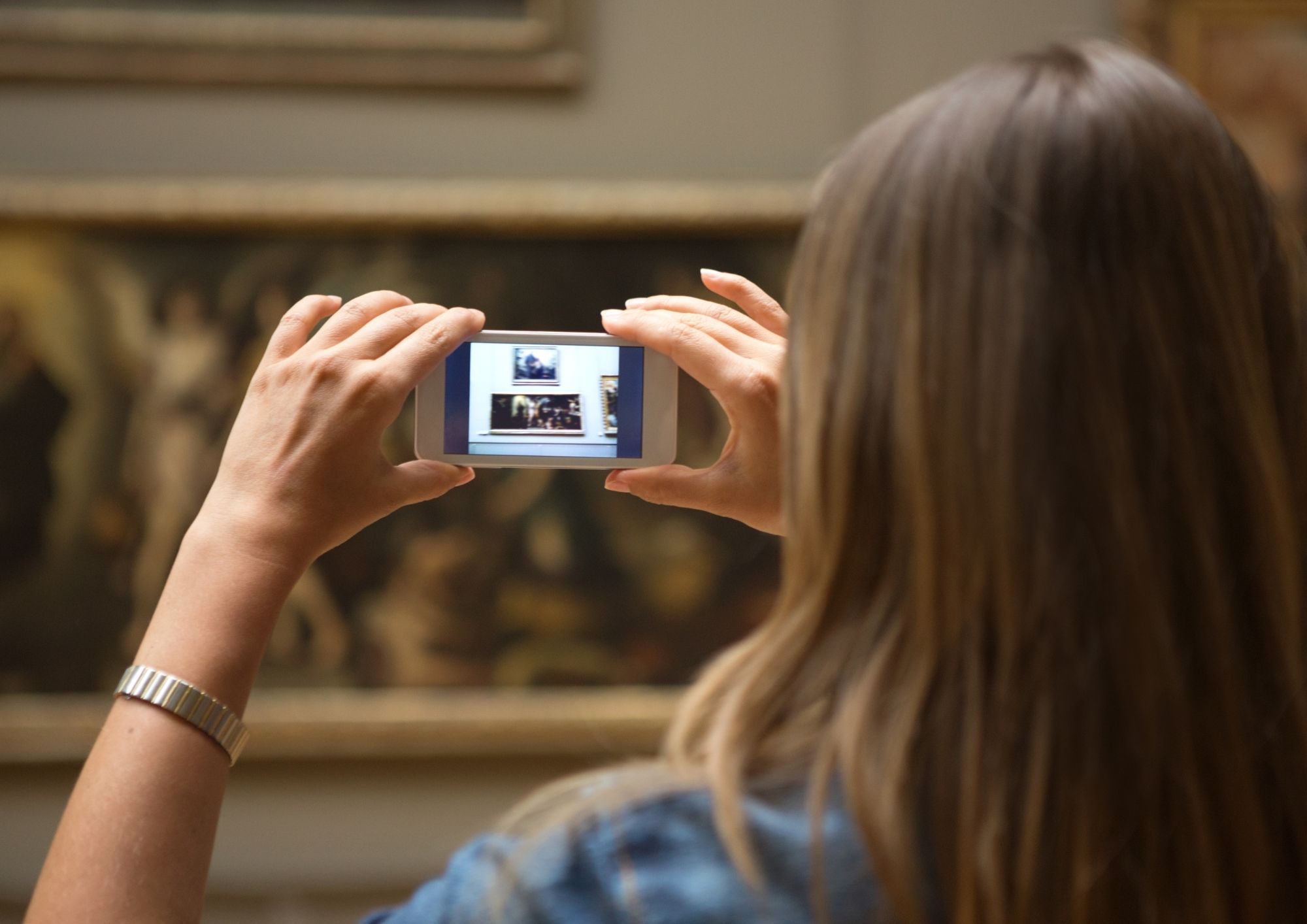 This event was created ten years ago by Jean François Grünfeld, and the French Ministry of Culture added a 2,000-euro prize and also have a place on the jury. Very quickly, this event became almost exclusively devoted to museography students, an increasing number of high school students also got involved, as well as some residents from retirement homes. Our most active partners include the University of Arras and the professors and students from Art de Muser.
The "Musées (em)portables" festival was created from an observation that connected the public with the mobile telephone, the "global" means of communication, universal passport to others. The intelligence and vision doesn't come from the telephone, but from its user. The idea is simple: visitor, whoever you are, make a video of your visit to the museum, château, monument, using your mobile telephone (three minutes maximum). From day one, this initiative has had the support of the Association of Curators of Public Collections in France.
Through this initiative, "musées (em)portables" gives visitors complete and utter freedom. They are free to choose the topic they would like to focus on, from the thousands of topics available. The goal is to create an original film, and it's more difficult than you imagine to think outside the box. But this challenge is worth all the effort, when you see your mobile telephone become a "smart"phone thanks to its owner, not its technology. "Musées (em)portables" raises the question of an open relationship between the museums and their visitors. So that these museums, that have become such attractive places, provide visitors with spaces where they feel free and creative, and even better, spaces where they can put their creativity into action.
Award-winning films from "Musées (em)portables"
The jury for "Musées (em)portables" 2021
Founder of the MuMo (Mobile Museum)
This serial entrepreneur launched her first business in the cosmetics sector 19 years ago. In her free time, she would visit museums, galleries and met many artists. In 2007, she created the magazine for contemporary creations, BC / Be Contemporary. In 2008, she produced a series of 12 contemporary art documentaries for the French TV channel Direct 8.
General Heritage Curator
Since 2003, she has been running a national scheme for safeguarding scientific and contemporary technical heritage (Patstec), led by the CNAM's Museum of Arts and Crafts, with a team in Paris and another one in Nantes. Since the 1st September 2016, she has been managing the "Heritage and Collections" department and the "national and international actions" for the Museum of Arts and Crafts in Paris, and runs the regional Patstec scheme in the Pays de la Loire, at Nantes University.
Interim head of the Department of Public Policy, General Heritage Department, Ministry of Culture.
Morrad Benxayer was born in Algeria in 1955, graduated from law school and trained at the Ecole des Métiers de l'Information. He worked in the weekly press sector (VSD) and then joined the National Museum of Asian Arts-Guimet in 1993. He was project manager for the Public Department.
Journalist and founder of "Louvre pour tous"
Bernard Hasquenoph is the founder of the "Louvre pour tous" blog which advocates for better access to the world of museums. He is very active on social networks and participated in the French Ministry of Culture's working group, that produced the "Tous Photographes" charter.
Head of Education Democratisation and Accessibility department at the Louvre
After studying political sciences, art history and cultural policy at university, Cathy Losson worked for regional and local authorities for fifteen years, in Ile-de-France and elsewhere. She worked primarily on cultural programming and development issues in rural and then suburban areas, and on implementing art and culture education programmes. After working abroad for a while for the cultural services at the French Embassy in New York, she joined the Musée du Louvre in 2013 and she is currently managing the education, democratisation and accessibility department there. The goal of this department is to define and implement the museum's policy for artistic and cultural education and to guarantee the museum is accessible and open to all. She does this through actions carried out outside of the museum, with the most fragile categories of people or those who are the least familiar with the museum.
Founder and General Manager of the channel Museum
Sébastien Meyssan began his career in television in 1992 on the French channel Paris Première, then he was part of the team who created "13ème RUE", a French channel by Universal Studios. In 2004, he was appointed as head of the Discovery Channel for France, and then he managed Discovery for southern Europe.
He was then a consultant for various organisations including FranceTélévisions, Arte, Bein Sport, MSN and institutions such as Universcience and Institut Français…
In 2017, he joined the Secom group to launch and manage MUSEUM, the first channel in the world devoted to visual art.
Archaeologist and film director, Archaeological superintendent of south Etruria & Audiovisual creation for the National Etruscan Museum in Villa Giulia.
Photojournalist in the 70s and 80s, the only Italian photographer in Iran during the revolution in 1979. Head of the Ministry of Heritage and Cultural Activities from 1980 to 2018 with the Archaeological superintendent of Abruzzes, in Rome, of the "Luigi Pigorini" prehistoric ethnography museum. During the past 20 years, Archaeological superintendent of south Etruria and for the National Etruscan Museum in Villa Giulia in Rome, head of the educational laboratory and visual promotion. Consultant for the chief prosecutor of Rome with regards the illegal market of archaeological discoveries.
He has designed and organised educational projects, produced videos and multimedia productions. He has worked for the multimedia communication department of many municipal museums. He is a professor at various institutions, for archaeological documentary film, audiovisual documentation techniques, museology, archaeological communication and forensic archaeology for crimes against cultural heritage.
The "Musées (em)portables" partners